Orlando Hospital Infection Attorneys
 407-900-2344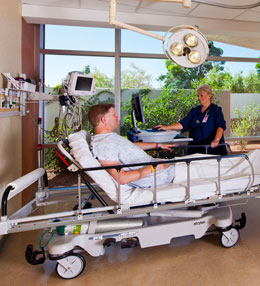 You go to a hospital to get well, but instead of coming out healthier sometimes you come out sicker than ever – or worse.  Any hospital stay is unnerving, but many people don't realize how risky hospitalization can be.
Simply because of poor standards, lack of sanitation, or negligence on the part of medical professionals and hospital staff nearly 100,000 people die each year as a result of infections acquired in hospitals. Millions of other patients contract infections while in the hospital.
These are nightmarish statistics for any patient but fortunately for our clients the Overchuck Law Firm attorneys have practiced in this field of law for more than a decade. We have earned an outstanding reputation for diligence and persistence on behalf of patients who have been harmed through lapses in infection control.
Hospital infection cases are highly technical, and cause is difficult to prove, which is exactly why you need an experienced and successful law firm on your side. Our unique knowledge of statistics, hospital administration, and hospital operations has brought justice for many injured patients, and to families of patients who have died because of hospital negligence.
At the Overchuck Law Firm we pledge to hold those wrongdoers accountable, but also to take the opportunity to protect future victims.
Our passion for pursuing just and fair resolution for our clients is unparalleled, but in hospital infection cases, we have another goal, as well. We believe that, under the right circumstances, hospitals that are not focusing on patient safety can be moved by successful litigation to stop endangering the lives and well-being of their patients.
---
The Overchuck Law Firm
1503 West Smith Street
Orlando, FL 32804
Fax: (321) 285-0430
Email: john@overchuck.com
The Overchuck Law Firm…Because you deserve better…
Schedule Your FREE Consultation
Any type of personal injury does more than cause an injury.  It can change your life.  Not just your life but the lives of your family members. We are here to help.
407-900-2344
schedule today