Orlando Railroad Litigation Attorneys
 407-900-2344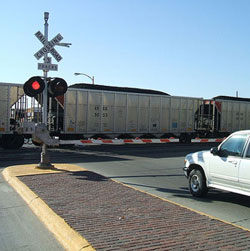 Railroad accidents and disasters are rare when railroad companies act responsibly to meet their safety obligations for passengers and the public. But safety suffers when budgets are cut, safety personnel are reduced, and safety inspections are rushed or even eliminated.
People can be killed or injured in railroad disasters when railroad safety suffers. The attorneys at the Overchuck Law Firm provide the victims of railroad disasters confidence that they will be treated fairly following an accident, because our firm has already successfully litigated similar cases.
The Overchuck Law Firm can make the difference between devastation and the justice that injured victims and their families deserve. Our team of experts is very experienced in understanding the laws and safety standards that apply to railroads and rail companies.
Unfortunately we know that rail carriers sometimes:
Neglect proper maintenance of train steps and passageways
Speed over unsafe or congested stretches of track
Neglect warning systems
Improperly maintain locomotives
The Overchuck Law Firm will move quickly and aggressively to investigate whether crossing guards may have malfunctioned or warning devices may have failed. When you or family members have been harmed in a railroad disaster, or as the result of an accident involving a vehicle and a train, we move aggressively to find the cause.
If a loved one has died, or you or a family member has been injured because of a railroad disaster the attorneys at the Overchuck Law Firm want to help.
---
The Overchuck Law Firm
1503 West Smith Street
Orlando, FL 32804
Fax: (321) 285-0430
Email: john@overchuck.com
The Overchuck Law Firm…Because you deserve better…
Schedule Your FREE Consultation
Any type of personal injury does more than cause an injury.  It can change your life.  Not just your life but the lives of your family members. We are here to help.
407-900-2344
schedule today